What is the St Mary's Health App?
The new St Mary's Health App has replaced our previous St Mary's Mywellness members app.
You can make all of your bookings at the touch of a button, including group exercise classes and swimming sessions. Gym sessions are no longer required to be pre-booked by club members.
The St Mary's Health App also helps to support your fitness journey, allowing you to monitor your progress, create bespoke workout routines and track your indoor and outdoor activity.
Download the App

Setup Information and User Guide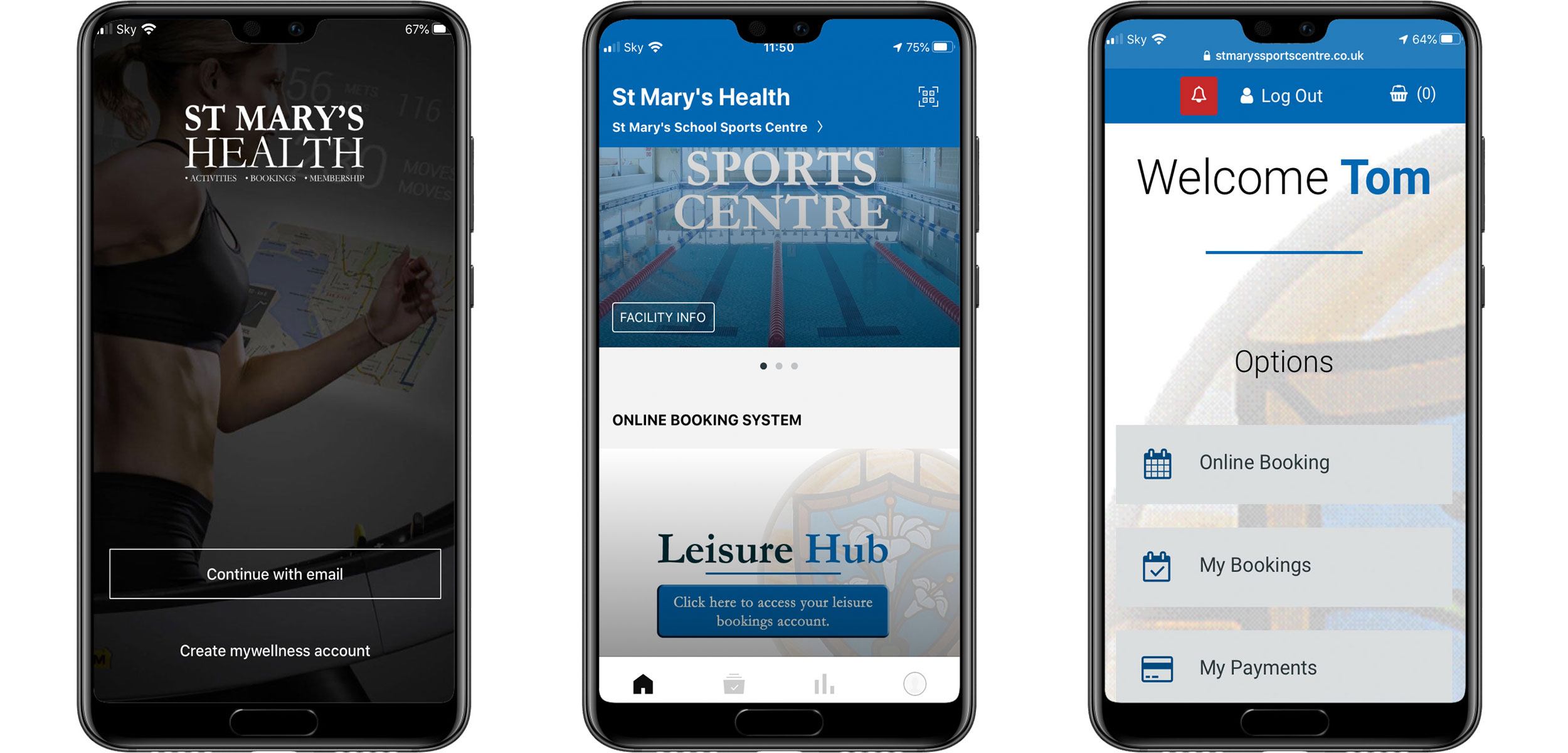 Account Setup and Online Booking
---

I had the previous St Mary's Mywellness App installed, what do I do?
If you have automatic updates switched on, your device will automatically update to the new St Mary's Health App. If not, you will need to revisit the app store to update your application. You will then need to create your 'Leisure Hub' online booking account to start making bookings. See below for details.
How can I download the St Mary's Health App for the first time?
The app is available as a free download from the Apple (iOS) or Android (Google Play) store. Search for 'St Mary's Health' to get started.
What do I do next?
If you are downloading the St Mary's Health app for the first time, and did not have a previous version (the St Mary's Mywellness app), then you will need to click 'Create mywellness account'. Follow the steps until you can log in for the first time.
What is Leisure Hub?
Leisure Hub is our brand new members only area, where you can make fitness class bookings, activity bookings, manage your membership and update your personal details, all in one place. 
How do I make an online booking account?
You will need to click on the 'Leisure Hub' icon and this will redirect you to our online bookings page. Scroll down to where it says 'I'm a member, but I need to create an online account'. Please note you will need your membership card number and email address to register a bookings account.
Can I book for more than one person using my account, such as a family member?
No, each member who wishes to use our online booking system needs to have their own account, using a different email address. Only users aged 8 or over are able to access our online booking system. Alternatively please call 01249 857335.
I think I've done it wrong..
No problem, one of our team can help. Please call us on 01249 857335 or email us on This email address is being protected from spambots. You need JavaScript enabled to view it., quoting your name and membership card number.
Watch our account creation guide
Using the App
---
The St Mary's Health App has a wide variety of uses, from booking your favourite fitness classes to tracking your workouts, and even synchronising to other smart devices such as an Apple Watch, Fitbit or Garmin with the in-app GPS. Find out more below.
Fitness Class and Swim Booking: Click on the Leisure Hub icon and you will be redirected to our online booking system. Use our handy guide above to create your personal account and start making bookings.


Access our latest timetables: You can find our latest timetables on the app, including our group exercise programme, swimming pool and fitness suite.


Track your movement/activity: Click on the toolbar at the bottom to access your 'My Movement' page and add the activities or exercises you have completed. Then click on the 'Results' tab to monitor your progress.


Outdoor activity tracking: Connect to third party devices such as Apple Watch, FitBit and Garmin to track your lifestyle and outdoor movement with the in-app GPS. Click on 'Outdoor activity tracking' or 'Connect Apps and Devices' on the app homepage to get connected.


Connect to gym equipment: Click on the barcode [#] symbol on the top right corner of the app and scan the QR code on any piece of cardiovascular or strength equipment to connect effortlessly. Your workout will be tracked and stored automatically in the 'Results' section for you to view after you're done!